Hispanic Heritage Month – Hispanics at Law
September 28, 2021
in News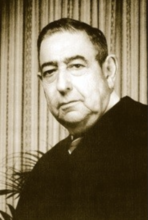 The Honorable Reynaldo Guerra Garza was born in Brownsville, Texas in 1915 of Mexican descent. Earning his law degree from the University of Texas Law School in 1939, Garza then went into private practice with future Texas Governor John B. Connally, future Supreme Court Justice Joe Greenhill and future U.S. Representative Jake "JJ" Pickle before enlisting in the Army Air Forces in World War II from 1942 to 1945.
Once he returned from the War, Garza continued his private practice in Brownsville earning himself quite a reputation. In 1962, President John F. Kennedy appointed Garza to serve on the United States District Court for the Southern District of Texas, making him the first Latino federal judge in the United States. He served as Chief Judge from 1974 to 1979. Immediately after, he was appointed by President Jimmy Carter to serve on the United States Court of Appeals for the Fifth Circuit in 1979, where he served for the remainder of his career. He was the first Latino-American appointed to ANY federal circuit court.  
In September 2004 Garza passed away from pneumonia at the age of 89, leaving behind his wife, 5 children, 12 grandchildren, 3 great grandchildren and a multitude of young lawyers inspired by his endeavors. 
In June 2005, President George Bush designated the Unites States Courthouse & Federal Building in Brownsville, TX at 6h and Harrison Streets as the Reynaldo G. Garza and Filemon B. Vela United States Courthouse.
Sources: Lawline/ The University if Texas at Austin, School of Law / Texas State Historical Association: Handbook of Texas